What's the Difference Between a Dental Bridge and a Dental Implant?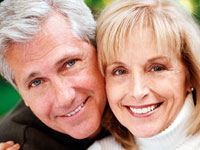 What is used to get across a gap -- a bridge of course! A dental bridge spans the gap between one or more missing teeth giving you a better smile.
Your teeth not only help you chew and speak correctly, but also contribute substantially to your smile and overall appearance (your teeth give form to your face and without them, your facial features can be significantly affected.) If lost teeth are not restored, other teeth often shift, causing crooked teeth, leading to cavities and gum disease. Dental bridges restore potentially compromised oral health to full function.
What Is a Dental Bridge?
A bridge is a special dental appliance used to restore missing teeth. There are several types of bridges used to span the space. The three most common types include:
Fixed Dental Bridge - This type of bridge is cemented next to the teeth adjacent to the gap, called the "abutment" teeth. A replacement tooth, called a pontic, is attached to crowns that provide added support and cover the abutment teeth. Fixed bridges can only be removed by the dentist.
Removable Partial Dentures - When the span is large, your dentist may suggest this type of bridge. A removable partial denture fastens to natural teeth with clasps or attachments. This type of appliance can be removed for cleaning and is less expensive than the fixed type. However, it's usually not as durable as the fixed bridge.
Dental Implant Supported Bridges - When implants have been placed in spaces that have no teeth, they serve as "abutments" or anchors for a bridge.
What Materials Are Used in a Dental Bridge?
An assortment of materials are available depending on the function and appearance. Porcelain, tooth-colored acrylics, gold alloys, and alloys made from non-precious metals all provide important restorative qualities along with making your smile the way you want it.
What's Involved in the Procedure?
Normally at least two visits are needed for preparing the teeth, custom-designing the bridge, and making adjustments for proper fit and comfort.
How Do I Care for My New Dental Bridge?
With bridges, extra care must be given to your gums and teeth. Bridges add more stress to existing teeth and must be supported by healthy gums. Otherwise, these key teeth are susceptible to decay and affect the bridges.
Brushing twice a day and flossing daily along with regular dental visits are essential to good oral hygiene. Flossing is often easier by using floss threaders that help to remove cavity-causing bacteria between the dental bridge and adjacent teeth.
Because bridges are intricate and sometimes difficult to clean, your dentist might suggest a special instrument that helps in caring for your teeth. Similar in design to professional dental cleaning instruments, it's made of tiny filaments that rotate to "swoosh" into the crevices between the teeth and below the gum line. Ask your dentist about this special cleaning device.
With good oral hygiene, a fixed dental bridge can last eight to ten years or more and provide years of service enhancing your smile and appearance and your oral health.
By Danine M. Fresch, DDS
Teeth Implants, Close Up and Natural - Is Implant Dentistry for You?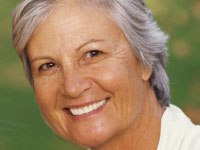 Teeth implants are a tooth replacement therapy offering natural-looking options for patients. Dental implants anchor artificial or prosthetic teeth into the jawbone. Their performance is nearly equal to natural teeth, providing a secure and comfortable fit, a natural appearance, and a big dose of confidence for people of all ages.
A tooth implant duplicates the tooth's structure. Dental implants are inserted into the jawbone is made of titanium. This metal does well in the body and rarely causes any reaction in patients. It is the same material that is used in knee and hip replacements.
The implant is cylindrical in shape, resembling a screw, and may even have a thread-like surface. They're uniquely designed with small holes at the outside surfaces for a very good reason. Like the roots of natural teeth, tooth implants stimulate bone growth. It even fools Mother Nature! Over time, the bone tissue actually grows into the small holes, securing the implant.
The abutment rests over the metal implant. It's a small piece of metal whose purpose is to connect the prosthesis to the tooth implant.
The prosthesis is the replacement tooth, a natural-looking crown or bridge (if there are multiple teeth missing). A prosthesis that's used to replace a complete set of teeth can be either fixed or removable. A removable prosthesis can be taken out for easy cleaning; a fixed one can only be removed by the dentist, but usually offers better reliability for chewing.
How Do These Different Teeth Implants Parts Work Together?
Since the tooth implant duplicates the tooth's structure, each part contributes to a natural-like functioning of the teeth. Whether replacing one or more teeth, the process of repair is the same. The teeth implants insertion procedure involves three main steps:
The first is the surgical insertion of the metal implants.
This is followed by a second surgery, about three to six months later, to insert the abutment.
The third step, usually two to four weeks later, is custom-making the prosthesis and attaching it to the abutment. There are typically several adjustments needed until the prosthesis is attached to the abutments.
Once the prosthesis comfortably fits, your future is secure. You'll enjoy comfort, confidence, and security in meeting the world and smiling in a whole new way with your new teeth implants.
By Brian J. Gray, DDS, MAGD, FICO